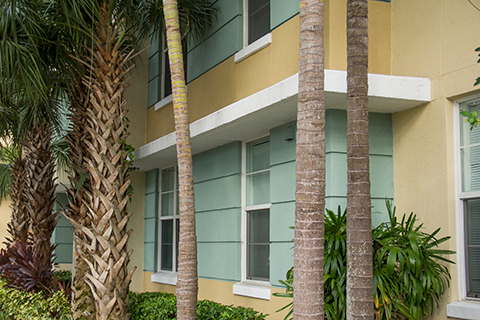 The University Village (UV) apartments are located between Red Road and San Amaro Drive. These apartments provide students with freedom while maintaining close proximity to campus. Approximately a 15-20 minute walk to the heart of campus, campus shuttles are also provided to help get students to their classes and various activities.
Students living in UV live in one of five different apartment models within one of seven buildings. Each apartment has a kitchen, a living & dining area with full-size appliances, laundry in-unit, bedrooms, and bathrooms, allowing for students to take control of their living experience.
Life in the UV still comes with support from Community Assistants and all the familiar amenities from the Residential Colleges. Students also can take advantage of their own parking garages and a special convenience store just for UV residents. 
To apply and sign-up for University Village apartments, students must have 45 or more completed academic credits. In order to move into University Village, students must have 60 or more completed academic credits or have completed 4 academic semesters at the University and be achieving satisfactory academic progress as defined by the University Bulletin.
Village Information
Addresses: Use the addresses below for food deliveries or rideshare/taxis. However, all mail and packages should follow the guidelines outlined in the Guide to Living on Campus. 

Main Office: 1527 Albenga Avenue, Coral Gables, FL 33146
UV1: 5850 San Amaro Drive, Coral Gables, FL 33146
UV2: 1540 Corniche Avenue, Coral Gables, FL 33146
UV3: 1585 Albenga Avenue, Coral Gables, FL 33146
UV4: 1575 Ligueria Avenue, Coral Gables, FL 33146
UV5: 1565 Ligueria Avenue, Coral Gables, FL 33146
UV6: 1560 Ligueria Avenue, Coral Gables, FL 33146
UV7: 1570 Ligueria Avenue, Coral Gables, FL 33146

Phone: 305-284-3680.
Capacity: 797 students
Unit Types: One-, two-, and four-bedroom layouts with in-unit private or shared bathrooms
---
Amenities
Laundry
In-unit washers and dryers are free for residents.
Study Areas
Each unit features a shared living room and outdoor courtyards are frequent study spots for residents.
Computer Lab
A computer lab, outfitted with desktop computers and UPrint printers, on the first floor near the Front Office
Kitchens/Meal Plans
All units feature full kitchens with appliances. Meal plans are optional for UV residents.
Cable

Resident students have access to 

HD cable via Stream2

WiFi
Campus WiFi access is available throughout the entire village
Secure Entry
Residents must swipe their 'Cane Cards to have access to residential spaces
Convenience Store
A convenience store is located on the first floor near the Front Office
---