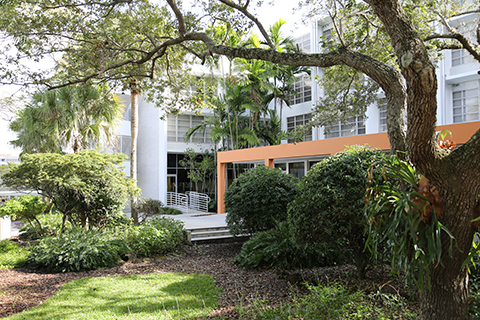 In 1986, Eaton was the third hall converted to a residential college. It is the oldest residence hall on campus. When Eaton was opened and dedicated in 1954, it was quoted as being an "ultra-ultra dorm" by The Miami Herald. Early in UM history, Eaton was an all-women hall and remained so until the beginning of the 1970s.
This residential college was named after Julian S. Eaton, an alumnus of the Law School and Chairman of the Board of Trustees in 1951.
Eaton is located directly on the eastern side of Lake Osceola. The Eaton Residential College rooms are set up in a suite arrangement with two double rooms connected by a bathroom. Each floor includes single and double rooms with study lounges and laundry rooms on each floor.
Building Information
Physical Address: 1211 Dickinson Drive, Coral Gables, FL 33146
Phone: 305-284-6845
Capacity: 391 students
Room Type: Double rooms in semi-suites and private singles
---
Amenities
| | |
| --- | --- |
| Bathroom | Each semi-suite features an in-suite "jack-and-jill" style bathroom that connects the two rooms; private singles have their own private bathroom |
| Laundry | Community laundry room located on floors 2-4. All laundry is free for residents. |
| Study Areas | Study lounges located on each residential floor. |
| Computer Lab | A computer lab, outfitted with desktop computers and UPrint printers, is located on the first floor. |
| Dining Hall | Eaton residents with a meal plan have access to either the Hecht-Stanford or Mahoney-Pearson Dining Halls.  |
| Cable | Resident students have access to HD cable via Philo |
| WiFi | Campus WiFi access is available throughout the entire building |
| Secure Entry | Residents must swipe their 'Cane Cards to have access to residential spaces |
| Vending Machines | Vending and ice machines are located on the first floor |
---