Moving in is an exciting, yet understandably, hectic time for new and returning students alike. In order to accomplish this we have very specific instructions for new students moving in, and we ask that you please follow them to allow everyone the opportunity to have a stress-free move-in process.
"Cruise Ship Move-In"
In order to provide a convenient and stress-free move-in experience, the University of Miami partners with University and Student Services (USS). As the exclusive provider of "Cruise Ship Move-In" for college campuses, USS will bring all your belongings from your car directly to your room. This gives you more time to focus on what's important, getting settled into your room.
Watch the video below for a brief overview of Cruise Ship Move-In.
---
Fall 2018 Move-In Instructions
1. Know Your Date & Time
With an assisted move-in process, it is essential to know your assigned move-in date and time. Your move-in date is determined by your pre-orientation program participation needs.
Monday, August 13:
Tuesday, August 14:

New International Students
New Freshmen Foote Fellows
New Legacy Freshmen
New Hammond Scholars
New Horizons Program 
New College of Engineering Students
New Frost School of Music Students
Hillel FreshFest Participants
Approved Early Arrivals

All remaining new students




Refer to the move-in schedule below for the timeframe corresponding with your Housing assignment. Please note that your floor assignment will be available on CaneLink by early June, and your specific move-in time will be available by mid-July. Simply click on the "Confirmation" page in the Housing Application or the "Application Status" section. You must arrive during your assigned arrival window listed in CaneLink.
The Fall 2018 move-in schedule will be available in June or July. For your planning purposes, the earliest move-in time block begins at 8 a.m. and the latest time block ends by 5 p.m. each day.
2. Arriving to Campus
When arriving to campus, utilize the entryway at Merrick Street. Then follow Merrick Street to Walsh Avenue where you will turn into the staging area. Use the address 5699 Merrick Street for the campus entry if utilizing a GPS (see map below for reference).
To make "Cruise Ship Move-In" a sucessful and efficient experience for all students, only one car per student will be permitted through theunloading zone. All other vehicles will be directed to park in the nearest parking garage.
3. Unloading the Car
From the staging area you will be directed to your specific residential college based on your assigned move-in time. Once there, USS will unload your vehicle into moving carts to bring your belongings directly to your room. While USS takes care of your belongings, the student should proceed to the reception desk to check-in with their assigned residential area.
4. Parking Information
After your vehicle is unloaded, the driver will be directed to park in one of the designated Long-Term Parking areas. From here, the driver may rejoin their student and continue to enjoy a stress-free move-in experience. Please note family members will not be granted access to their student's room. The student must be present to let their family into their room during the move-in process and anytime thereafter.
No parking will be available outside of the designated parking areas. Once you have completed your unloading, please move your vehicle to one of the designated parking areas - refer to the move-in parking map for specific locations.
Special Accommodations: All drivers are asked to park at the designated parking areas. Shuttles for those with special needs will be available to and from the designated parking area and residential areas.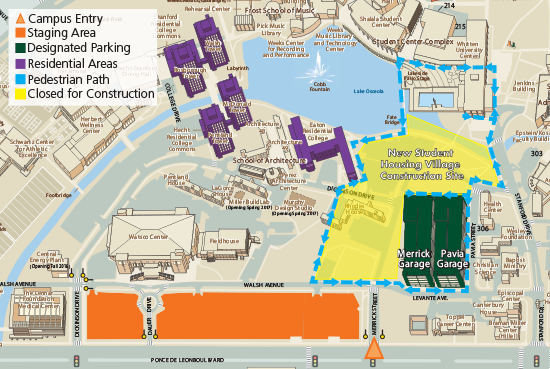 Click map to enlarge.
---
Move-In Regulations
Following these regulations is necessary to ensure an efficient move-in process for all. Please keep them in mind when making your move-in arrangements.
No moving vans or trailers
Avoid oversize vehicles
One car per resident
---
What to Bring
Please consult the Guide to Living on Campus as well as HRL's complete Policies and Procedures to learn more about what items students should and should not bring into the University's residential facilities.